One of my favourite albums of Bob Dylan is the soundtrack for the movie "Pat Garrett & Billy the Kid". Both the album as the movie are higly underrated. Now, so many years later, Dylan made a song for the "Tempest" album (2012) that easily could fit on the 1973 album. Both in music style as in theme of the album/movie. Only difference is that the song is a tribute to John Lennon, who was full alive in 1973.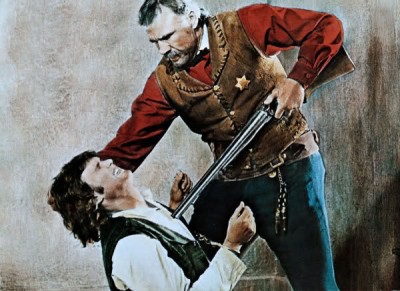 click the picture for the song (incl. the lyrics).
Sam Peckinpah directed the movie. I love all his movies. Sadly when the movie was finished the studio decided to cut scenes. Peckinpah was so upset he wanted his name removed from all the credits… Like all Peckinpah movies this film has many layers. You can view it as a simple cowboy movie in which people die in a way only Peckinpah could film. Bobby "Sunshine" Dylan only plays a minor role in the movie but the influence of his lyrics and music can be felt throughout the film.
"How does it feel?" Billy asks his former friend Pat Garrett, quoting the famous refrain of "Like a Rolling Stone." "It feels like times have changed," Garrett replies…