Time goes by. It's three full years since the news came that the tough and tender John Martyn had died, January 2009, at the age of 60 of pneumonia. A genuine original: not just an astonishing guitar player, but also a brilliantly adventurous vocalist and a remarkable songwriter. His acute sensitivity meant his existence was innately painful. Drink dulled that pain but made him a famously heavy drinker. In 2003 his right leg was amputated below the knee. He was a far more gentle soul than his image as a grizzled wildman suggests and he made some wonderful records and was almost always superb in concert. His death ruled out plans to work with jazz musician Pharoah Sanders
Although all of his albums have at least one jewel on it I favoure the "Solid Air" and "One World" albums. 'Solid Air' (1973) what a wonderful album, with Danny Thompson playing the Bass. He handled the traditional or experimental with such naturalness. Beautiful extended live versions of these songs can be found on the famous "Live in Leeds" album.
"One World" is quit a different album: mean, moody and magnificent. The album is included in the book 1001 Albums You Must Hear Before You Die. Whilst recording the album, John collaborated with Steve Winwood and legendary reggae artist Lee Perry. Both made vital contributions to the album.
Recorded in the Berkshire countryside, outside and mostly late at night. The vision for One World was more considered and arranged than John's previous work, during the track "Small Hours" you can hear all sorts of ambient sounds, and the nearby lake acted as a natural reverb. Water and background noise can be heard, with John on the far side of the lake from the mobile recording unit, making what Chris Blackwell termed "one of my favourite tracks, not of John's, but ever".
In 2004, a remastered Deluxe Edition of "One World" was released. It consisted of the original studio album in remastered form and a bonus disc collating previously unreleased live recordings from Martyn's summer 1978 concert at Regents Park. The remaining bonus tracks were studio outtakes, previously available on the scarce (deleted) 1999 release "Another World".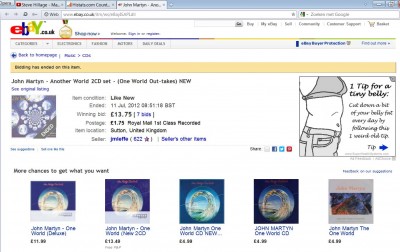 I had long time set my mind on buying the Voiceprint release of "Another World". Finally I've got the album through Ebay and at a reasonable price too. The cover says: "Limited Edition Bonus Disc" for the first 1,000 copies but there never was a second edition. Voiceprint deleted this title from the catalogue after some fuss with Island. There also was some delay as the record is apparently copyrighted and published 1998. The song "One World" is also featured in my "Roadtrip movie part II".
His music is for all time.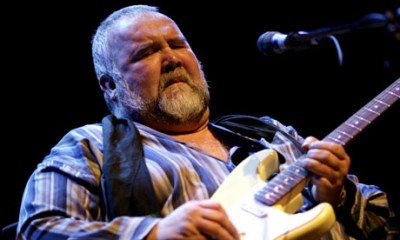 "Some of us live like princes
And some of us live like kings,
Most of us live just like me and don't know what it means
To take place in One World,
To make our peace in One World,
To make our Way in One World,
To have our say in One World."